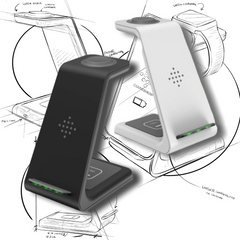 Introducing the ChargeMon™ Charger
Hey there! Meet ChargeMon, the universal quick charge stand to power up all your Apple & Android devices up to 4x faster than your average wired cables*
- Charges phone, watch & earbuds, all at the same time
- 4x Faster wireless charging speeds with fast charge features
- Compatible with Apple, Samsung, and Qi-enabled devices
- No need to handle multiple plugs and cables
- Beautiful and sleek all-in-one design
Device Compatibility
List of devices that we have tested plus ongoing feedback from satisfied customers

iPhone
iPhone 13/13 PRO
iPhone 12/12 PRO/12 PRO MAX
(Not compatible with iPhone 12 Mini)
iPhone SE (2nd generation)
iPhone 11/11 PRO/11PRO MAX
iPhone X/XS/XS MAX/XR
iPhone 8/8+

Android
Samsung Galaxy S21/S21+/S21 Ultra
Samsung Galaxy Note20/Note20 Ultra
Samsung Galaxy S20/S20+/S20 Ultra
Samsung Galaxy S10/S10+/S10E
Samsung Galaxy S9/S9+/S8/S8+/S7/S7 Edge
Samsung Note 10/10+/9/8
Huawei P40/P40 PRO/P30/P30 PRO
Xiaomi CC9 PRO/Mi 9/MAX

Earphones and Smartwatch
AirPods 2/Airpods PRO
(With wireless charging case)
Galaxy Buds/Galaxy Buds+
Qi-Enabled TWS
Apple Watch Series 6/SE/5/4/3/2/1
(Not compatible with Apple Watch 1st Gen.)
Apple Watch Hermes/Nike+
Galaxy Gear S2/S3/Sport
Galaxy Watch3/Galaxy Watch/Active/Active 2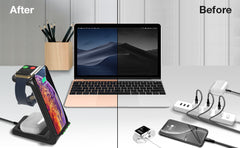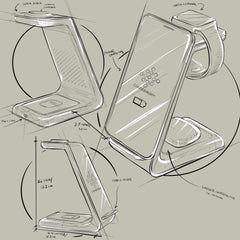 Designed With The End In Mind
ChargeMon was born out of a passion for simplification and a need for an all-in-one quality dock on the desk to wirelessly fast-charge our smartphones and multiple smart watches and wireless earbuds at the same time.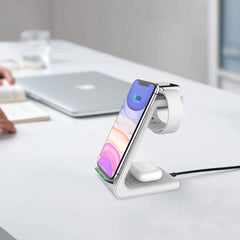 Perfect For Any Minimalist's Desk
Say bye to handling multiple cords and plugs. ChargeMon saves you precious desk space and keeps it clutter free by replacing your charging pad, station and dock for your various smart devices with its universal 3-in-1 charging capabilities.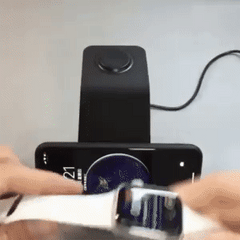 Charge It Your Way
Portrait or landscape, it doesn't matter. With a dual coil design, ChargeMon lets you quick charge your phone while taking a video conference call, or watching your favourite movie.
ChargeMon Is Where Style Meets Safety
Not only was the ChargeMon designed to give maximum output on a minimum table footprint, it was done so without compromising safety and efficiency.

Safe Charging
Using efficient components and an advanced chipset, the double coil design increases the device charging speed while eliminating overheating risks of wireless charging.

Intelligent Cooling
Designed with heat dissipation holes, wireless charger running at low temperature to prevent devices overheating and ensure high speed transmission at the same time.

Anti-slip Pads
Each charging area has silicone pads to prevent devices from sliding off while charging. Additional rubber pad on the bottom keeps wireless charger stable.

Disclaimers
"Up to 4x faster charging speeds" through Quick Charge 3.0 are backed by a test from Qualcomm® Quick Charge™ - charging a 2750mAh fast charge battery (1.5C charge rate) and using the maximum power for a thermal limit of 40C for all charging implementations. Charge time based on 0% to 50% (August 2015).
"Up to 4x faster charging speeds" claims using Quick Charge 3.0 is stated in comparison to a 5W charger.
We do not guarantee that the ChargeMon™ will charge your devices exactly 4x faster than a 5W charger, or a charger of a higher wattage output. When ChargeMon™ is connected by a Quick Charge 3.0 adapter, you may experience quicker charging speeds anywhere between 1-4x faster - hence the statement "up to 4x faster". Because Quick Charge 3.0 has statistical evidence of being up to 4x faster (according to the test by Qualcomm® Quick Charge™), we reserve the right to state this in conjunction with our product information.